How Important is a Letter of Last Instructions?
While your Will is the critical element of your estate plan, a Letter of Last Instructions can be of vital assistance to your executor and beneficiaries. Your Will offers the "big picture" instructions on how your estate should be distributed and managed after you are gone. Your Letter of Last Instructions, on the other hand, should provide more detail about:
Location and how assets can be accessed.

Funeral Details regarding burial plots or cremation, funeral ceremony, preferences, organ donation, or other final wishes.

Personal Details that may include caring for a pet, providing for the education of surviving children, private messages to loved ones, or how personal effects not itemized in the Will should be distributed.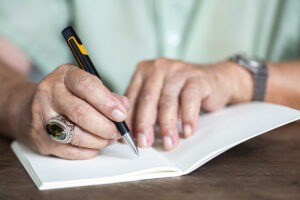 The Letter of Last Instructions is not legally binding like your Will. But these do allow you to communicate your last wishes in personal detail. The document also makes your Executor's job much easier and will likely eliminate any confusion after your passing. This final note fine-tunes your last wishes and conveys a more personal directive to the family.
What Might You Include in a Letter of Last Instructions?
While acting upon the advice of your Estate Lawyer to develop your Letter of Last Instructions, you will help the Executor better understand and execute their responsibility of identifying and dispersing assets, paying final bills and taxes, and clarifying and updating specific wishes mentioned in the Will.
For example, here is a list of items you might include in your Letter of Last Instructions:
Location of your Will

Contact Information for your Estate Attorney

Funeral instructions (service, burial, cremation, body donation)

Site of your burial plot, if any, or where to distribute your ashes

List of friends, relatives, and organizations to be contacted about your passing

Identify the location of safe deposit boxes and keys

List credit cards, numbers, and associated card issuers

Distribution of personal effects: identify names and who should receive each

Compile all active warranties

List any trusts with locations that you have created

Identify debts owed to you, with names, addresses, phone numbers, and the original and approximate current balances, and any collateral held.

Location and list of relevant legal documents like deeds, marriage license, your and family member birth certificates, Social Security information military records, auto registrations

Provide a current list of user accounts, usernames, and passwords to all accounts and memberships

How many death certificates will be needed (insurance companies, financial institutions, pension companies, IRS, Social Security, counties where real estate is owned). Your estate lawyer can help determine the number required based upon existing sources of income and assets.

Current Mortgage Lender and contact

Property tax information

Life insurance policies, policy numbers, and agent contact information

Bank Accounts including online passwords and security questions

Investment Accounts numbers, brokerage information, and online access information

List any organizations you are a member of

Pension Plan information and contacts

Last seven years Income Tax returns

Listing of current and ongoing bills, credit card statements

Personal notes and messages to loved ones
When to Write Your Letter of Last Instructions
None of us know exactly when we will pass on. Waiting until too late can result in considerable confusion and inevitable challenges for your executor and heirs. Because of this, you should write your Letter of Last Instructions now, working with a qualified estate lawyer to ensure you have identified all necessary instructions. Once the Letter is written, make sure your executor or other family members know where it can be found at the time of your death.
The process should not end with the first draft, since things change as your life progresses. Be sure to review and update your Letter (and your Will) frequently to accommodate changes in your family, marital status, homeownership, shifting investments, and other significant modifications to your life and property.
In Westfield, NJ, Contact Nicholas A. Giuditta III
Creating you Will is only part of making sure your estate will be correctly managed once you are gone. The Letter of Last Instructions ensures that your wishes will be carried out efficiently and accurately. Further, the Letter will eliminate a great deal of confusion and searching by your Executor that might leave certain items uncovered.
The best strategy is to schedule a discussion with a proven, reputable Estate Lawyer who can help you draft an effective Letter that covers all topics and allows you to update as time passes.
In Westfield and Union County, New Jersey, phone or email the Law Office of Nicholas A. Giuditta III for a free consultation to discuss your Letter of Last Instructions.