When is a Guardianship Attorney Necessary?
When an individual suffers a mental or physical disability that limits their ability to care for themselves, communicate, earn a living, or perform functions necessary to live independently, often their survival becomes dependent upon assistance from others.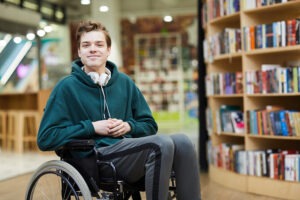 To ensure proper care and support, a legal tool known as "guardianship" assigns responsibility to someone else to provide support for activities that the ward cannot handle themselves.
If no established directives or Durable Powers of Attorney are in place when the disability occurs, the court will designate a guardian. In the extreme, if the ward is unconscious or unable to comprehend, a court-appointed guardian may be given a broad scope of authority to make financial and non-financial decisions on the person's behalf.
Determining the Guardian's Level of Responsibility
Depending on the severity of the individual's condition, a guardian's power may be limited to only those activities that the disabled person cannot perform on their own.
For example, if the ward is physically, but not mentally impaired, the guardian may only have the decision-making authority for specific physical needs. The disabled person should always be allowed to perform as many functions as they are capable.
How is a Guardian Chosen in New Jersey?
In many cases, individuals suddenly become incapacitated and have no previously assigned directives or durable power of attorney in place. A family member or friend may apply for guardianship to the Superior Court of New Jersey.
The application should include:
Personal information about the individual who is incapacitated and about the applicant

Detailed medical and financial information of the Prospective ward's

List of names and addresses of close relatives

Explanation of why guardianship is needed
The opinions of two medical professionals who have examined the individual within the past thirty days are also required.
From this information, the Court will try to determine the person's degree of incapacitation. Should the individual be able to express a preference, the court may choose accordingly. If the individual is not able to do so, and no prior directives or durable power of attorney exist, the court must select the guardian. Courts usually prefer to choose a close family member like a spouse, parent, adult children, or other relation.
Guardianship may take two forms. These are:
Guardianship of the Person allows the guardian to make decisions regarding the physical and medical care of the disabled person.

Guardianship of the Property allows the guardian to make financial decisions presumably to pay bills and protect the ward's assets.
Generally, one person will become a guardian for both areas of responsibility, although two individuals may split these duties accordingly.
The guardian must be at least eighteen years old without any questionable criminal record, and should not be disabled themselves.
The judge will review the case and appoint an attorney to act on behalf of the incapacitated person. This attorney will interview the prospective guardian to determine their qualifications and appropriateness for the job. This person will also review medical records and meet with physicians who had attested to the person's incapacity.
When complete, the court-appointed attorney submits a written recommendation regarding the findings.
The court will issue a judgment and designate the guardian.
Discuss Guardianship Directives with Your New Jersey Estate Attorney
To avoid the complications of a future court appointment on your behalf, take a proactive approach by consulting a qualified guardianship attorney.
Appointing a potential guardian short be a part of your overall estate plan. You may do this by creating a durable power of attorney and a duly probated will.
Contact Giuditta Law Firm in Westfield NJ
Serving Union County and Northern New Jersey, the Law Office of Nicholas A. Giuditta III handles all matters of estate planning, powers of attorney, wills, trusts, probate, and guardianships and conservatorships.
To protect your future and that of your family, contact Giuditta Law Firm at 908.232.0099.