What is Power of Attorney?
Power of attorney is a legal concept with which most of us are familiar, but may never fully understand until it is needed.
In its many forms, a power of attorney (POA) is a written document by which one person, the principal, authorizes another, a competent adult, to act as an agent to perform specified functions on the principal's behalf. The extent of the agent or "attorney-in-fact" authority to act is defined by the type of POA agreement.
Power of attorney authorization is most frequently used when the principal may be anticipating the loss of their ability to perform certain functions due to disability from age, health, or injury. In these instances, the principal may grant the person the authority to make health-related decisions, handle financial transactions, and even sign legal documents. Frequently, powers of attorney are given to a son or daughter by an aging parent.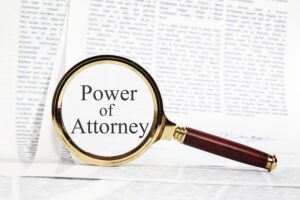 In other instances, POA may be given to allow another to manage finances or handle business or real estate transactions.
Creating a Power of Attorney Agreement
New Jersey POA agreements require that both the principal and the attorney-in-fact are determined to be competent when the POA agreement is created. A  witnesses and a licensed Notary of the State of New Jersey must be present at the signing.
Usually, POA documents are drawn up by an Elder Law or Estate Attorney to ensure that a responsible individual will be in place to make decisions on behalf of the principal if their abilities begin to wane. The agreement establishes that physicians, institutions, and banks will continue to receive direction without delay, health concerns are addressed promptly, and the principal's bills will be paid.
Types of Power of Attorney
In New Jersey, there are four categories of power of attorney.
Durable Power of Attorney
A Durable POA grants the attorney-in-fact the power to make healthcare decisions. These are often used in cases of Alzheimer's, Parkinson's dementia, and other degenerative diseases that can subsequently render the principal incapacitated. The POA agreement may also list the powers that may not be affected and those that will become effective when the principal becomes incompetent.  The Durable POA is valid  when it is signed and remains in effect until the principal dies.
General Power of Attorney
General POA may grant a broad range of responsibilities. The agent can be authorized to handle all financial and business affairs, but only when the principal is competent enough to agree to give up control knowingly. If health circumstances cause the principal to become incompetent, the General POA ends.
Limited Power of Attorney
A Limited POA is very specific about the authority the agent is given. The range of authority and a particular time frame will be defined. For example, a lawyer might be granted a Limited Power of Attorney to sign documents for a specific transaction like a real estate closing. In other instances, an individual may be assigned a Limited POA for particular functions during a period of recovery or convalescence from a surgery, illness, or injury.
Springing Power of Attorney
A Springing POA is created to handle specified responsibilities only in the event the principal should become unable to perform those duties.
Experienced Elder Law Attorney to Create Your Power of Attorney Documents
Creating a POA agreement to make healthcare choices or to manage your finances should you become unable is a crucial decision. An experienced Estate or Elder Law attorney can advise you of all contingencies and create the documents necessary to protect you.
Headquartered in Westfield NJ and Union County, Nicholas A. Giuditta III has been a New Jersey Estate Lawyer for over three decades. The firm will consult with you to discuss your needs, create your will, help with estate planning, execute POA agreements, and all other Elder Law issues.
For a consultation to discuss your plans and concerns, contact Giuditta Law Firm at +1.908.232.0099. Or, visit the Giuditta Law website to request an appointment.