How can an elder care attorney help you prepare for long-term care?
While elder care attorneys can assist in organizing the affairs that will occur after your death, they can also help you prepare for your declining years without becoming a burden on your family. The same lawyer who helped create your will is in the best position to help plan for long-term care needs should the situation become necessary.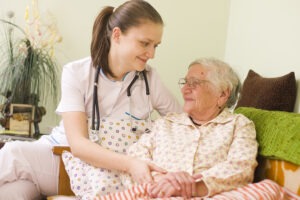 When we are enjoying excellent health, few of us think much about ever needing long-term care in a senior facility or a nursing home. But, if we live long enough, most of us will require that special level of attention and support. According to AARP, 70% of us who reach the age of 65 can expect to need some form of long-term care or assistance at some point.
In many instances, the onset of aging characterized by mobility and mental limitations, dementia, Alzheimer's, and other afflictions sometimes appear suddenly and leave family members with no other choice than to scramble for long-term care and assistance.
Cost of ElderCare
Whether you are a family member caring for someone with age-related incapacities or one who wishes to relieve the family of the burden of having to care for you in your declining years, advance planning is essential.
At an average cost of $65,000 per year in New Jersey, according to the State's Department of Banking and Insurance, long-term care can soon deplete an individual's savings, especially when extensive medical care is required. Many New Jersey nursing home facilities cost over $100,000 per year.
Individuals and families might consider long-term care insurance well before the need arises. But, like any insurance, premium costs will only be recovered if you use the insurance.
Besides, not everyone can qualify for the long-term care insurance, especially those with pre-existing conditions.
It is also important to note that an individual's wealth can be depleted before Medicaid begins to help pay for the stay in any long-term care facility.
How Can an Elder Attorney Help?
An experienced elder law attorney will work with you to develop a plan. The lawyer will discuss and review your circumstances and propose appropriate financial strategies that involve the right moves to optimize your estate plan, establish a financial power of attorney, and discuss advanced medical care directives.
Your elder care attorney understands the legalities and time limitations of transferring property, the roles of Social Security, Medicare and Medicaid, and the value of strategic planning to optimize your assets and provide all with peace of mind. With expert advice and experience combined with knowledge of New Jersey laws, your lawyer can begin to lay out contingency scenarios that help you anticipate any possibility.
Whether you are in the process of mapping put your retirement years or are a family with elderly parents or family members, a consultation with an experienced elder law attorney will help you manage the costs of eldercare most efficiently. And, most importantly, you can ensure that you or your loved ones receive quality treatment in the appropriate surroundings.
Contact Nicholas A. Giuditta III, New Jersey Elder Law Attorney
For your consultation to discuss all aspects of elder care, contact the Law Office of Nicholas A. Giuditta III in Westfield NJ. Know that each eldercare situation is different and may require balancing several different approaches to create a proper legal outcome that offers the greatest benefit.
With over three decades of elder law experience, Nicholas Giuditta will help you to achieve the comfort of knowing that your future is protected,
To schedule your initial consultation regarding elder care, visit the Giuditta Law Office website, and complete the simple contact form. We will be in contact promptly.
Or, phone our Law Office at 908-232-0099, and we will set up the appointment at your convenience.